14 Years of Deployment Excellence
About Connext
Connext (formerly a division of Trextel) is committed to helping their clients connect the IT that is coming up next.
Headquartered in Atlanta, Connext's vision is to be the most trusted technology deployment partner in North America. We focus on trust because, as a service company, our people are what make us successful. They are the foundation of our company; their leadership and dedication foster strong relationships with our partners, our customers and with each other.
Over the past 14 years, our people have successfully deployed over 1M+ devices for 100+ enterprise customers and proudly serves as the deployment partner of choice for many of the largest national chains and multi-site retailers across the country. Connext was formed to allow this experienced, process driven deployment team to thrive in partnership with Garden City. We started by investing in our people. Ongoing training ensures continuous expertise in managing and deploying a wide-range of evolving technologies, including network infrastructure, point-of-sale systems (POS), 5G, IoT, security, digital signage, and more.
Deployment projects can be complex. Budgets and timeliness are important to our customers, yet managing these projects require more than just technical ability, they require planning, communication, agility, and trust. We LEAD each project with this approach to minimize delays and maximize the value we provide our clients. Our ability to execute with intention and adapt to change sets us apart from traditional deployment companies. By working with technology partners, piloting projects and evaluating new technologies in our innovation lab, we develop best practices for deployment solutions that address our customer's evolving needs.
Through this dedication and strong belief in leaving things better than we found them, we hope to continue building strong connections with our employees, our customers and our communities.
Our Vision
To be the most trusted technology deployment company in North America.
Our Mission
Our mission is to build strong connections that foster extraordinary experiences and empower communities to thrive.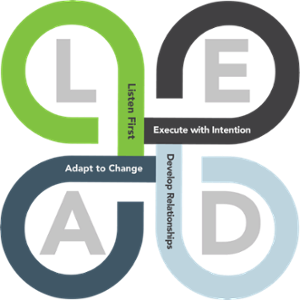 Our Values
Listen first | Execute with intention | Adapt to change | Develop relationships